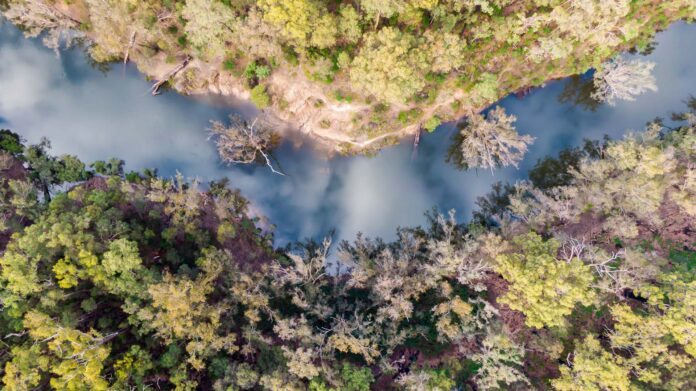 Lane Poole Reserve is the perfect snapshot of what the South West has on offer and only an hour and a half from Perth. The reserve is truly an escape for anyone looking to enjoy some time away from the city, reconnect with nature and spend some quality time with friends and family.
There is something for everyone at Lane Poole Reserve, whether you want to test your mettle on the 4wd track, fly through the forest on your mountain bike, paddle, swim or fish on the Murray River, or kick back and enjoy some of the best camping spots near Perth.
Let's take a look at some of what Lane Poole Reserve has to offer to get you ready for your nature retreat.
Camping
Camping in Lane Poole Reserve is one of the most relaxing and enjoyable ways to get back to nature. The campsites are situated well within the forest, providing an abundance of shade and an element of privacy.
There are 9 different camp areas within Lane Poole Reserve which cater to different types of visitors. Caravans, tents, groups and singles are all accommodated at different locations and it's always best to book ahead and scout out a campsite suitable for you. Campsites range from $7.50 to $14.00, you can find more information and book here.
Most campsites are just a short walk to the Murray River and also offer eco-toilets, BBQ's, fire pits and picnic tables. Please check fire bans and be sure to bring your own wood and drinking water.
Once you arrive, unfold the camping chairs, crack open a beverage or two, stick some snags on the BBQ and enjoy the favourite Aussie past time of sitting, eating, drinking, and chatting the night away. Tough life.
Bushwalking
Winding through the Lane Poole Reserve are several walking tracks of various lengths and difficulties. The famous Bibulman track runs through the Reserve with multiple access points. Also check out the Island Pool Walk Trail which is a nice cushy, one-hour loop and the King Jarrah Trail for the more adventurous as it's 18 k's long but features a stunning 250-year-old Jarrah tree.
Swimming
The Murray River meanders through the forest providing great swimming spots to rinse off and freshen up all over Lane Poole Reserve. Wintertime, the current gets a bit stronger, so watch out for warnings and always check visibility before diving. A popular spot for families to swim in is the Bowden Powel day area as there are multiple steps down into the river and it's a great place for some photos of the small rapids upstream.
Kayaking, Canoeing and Rafting
All year round you will find people Kayaking and Canoeing down the Murray River. There are multiple places to launch your vessel and are organised group tours for families, school groups or a group of mates. Find out more at http://dwellingupadventures.com.au/ or http://www.murrayriver.com.au/kayaking-canoeing/
Mountain Biking
Strap in and take off down the mountain bike trails throughout Lane Pool Reserve. There are trails for all levels from long, cross country trails to short, downhill adrenaline-pumping rides. Check out the Shire of Murray website for more information https://www.murray.wa.gov.au/feature/murray-valley-mountain-bike-trail-network/
Fishing
When there's water, there's fish. That's the saying, right? Well, maybe not but you can find some fish in the Murray River. If you're lucky you'll be throwing a rainbow trout on the BBQ that night. However, make sure you have your fishing license up to date before you cast off.
Trees Adventure
Seeing as the Lane Poole Reserve is surrounded by trees it makes sense that there should be some kind of activity around them. Enter Trees Adventure – a treetop obstacle and zipline adventure course made for all ages. Check out their website for more info.
Wildlife/Nature Watching
Australia is blessed to have an abundance of diverse and unique wildlife. You'll find many species of wildflowers in the spring, ancient forest growth as well as reptiles, birds and our favourite insects.
4wd Track
Lane Poole Reserve offers a great 4wding track close to Perth that lets you get your car dirty. The difficulty of the track rises and falls with the season and always come prepared. Phone coverage isn't guaranteed so make sure your UHF and CB radios are working and take some mates with you. Check out this site for more info.
Dwellingup
Dwellingup is the cute little town just outside Lane Poole Reserve where you can stock up on supplies, find information on tours and equipment hire or help yourself to a meal at one of the cafés. There is also a winery and paintball course there. Probably go to the winery after paintball, not the other way around.