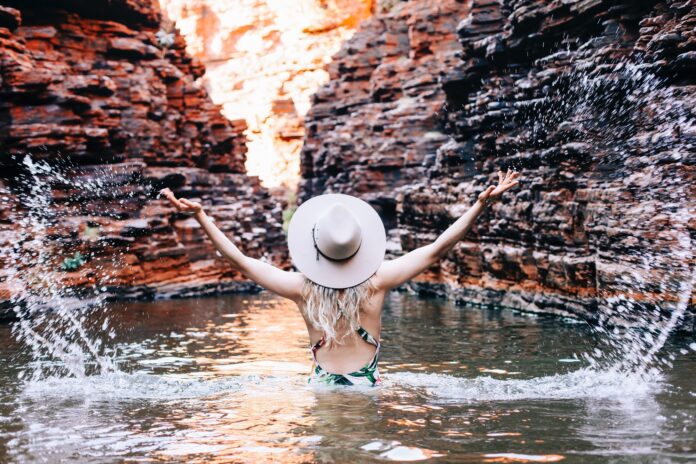 Baby, it's cold outside. Well, it is for anyone from Perth, anyway. Winter is upon us people of Perth, and it's time to get those track pants out and blankets on the bed. While most of the world will look at Perth winter average temperatures of 8-20 degrees and think that's a nice spring day, for us, it feels like ice daggers. However, the benefit of living in a state bigger than Western Europe, is that we get a diverse climate. Let's get you back into your board shorts and flip flops in the hottest holiday spots in WA.
Marble Bar
Literally known as 'the hottest town in Australia', Marble Bar is famous for holding a Guinness Book Record for recording 161 consecutive days of not dropping lower than 37.8 degrees. Now that is a bloody scorcher. Located in the Pilbara, a casual 17-hour drive from Perth, Marble Bar is a perfect example of a gold rush town in rural WA. Established in 1893 after the discovery of gold in 1890 the town is a testament to early pioneers and those willing to brave the desert heat looking to strike it rich.
You won't be sprawled out on the beach, but there's plenty of things to see and do. Take a dip in one of the many pools or gorges that are a short drive out of town. Or soak up the heritage and history at the Marble Bar museum, old mine sites and pioneer graveyards. And of course, it wouldn't be a true-blue pioneer town without a decent pub. The Ironclad Hotel (sounds badass) was the 2nd permanent structure in the town and… wait for it… the first pub in WA to get air conditioning. Nice!
Karijini
Karijina national park really needs no introduction. The gorges, mountains and rock formations are iconic in Western Australia. And guess what, it's also pretty damn hot. Perth winter is the perfect time to head there for a spot of camping, walking and relaxing by the pools. Averaging around 25 degrees during the winter months means it's warm but not too warm and perfect for doing some of the longer hikes around.
Swimming after a long hike is a must but trust us, the water is very cold indeed. A nice little hack is to take a floating ring with you. Kick back and enjoy the magical pools of Karijini whilst not freezing your ass off. Also, be sure to take some sensible footwear, water and a lunch and pay attention to signage for any warnings.
Dampier Peninsula
Above Broome, rising out of the map like a shark fin is the Dampier Peninsula, one of the more underrated holiday destinations in WA. What has been a relatively isolated, well kept local secret for years, the Dampier offers truly amazing beaches, bush, wildlife and a genuine Western Australian experience.
The infamous Cape Leveque Road that cuts through the peninsula has been renown for its corrugation and harsh conditions. However, the entire road has recently been sealed. Meaning that the Dampier is set to become a sought-after holiday destination in WA.
There's a load of beautiful camping and accommodation areas throughout but pick your spot wisely. It's crocodile country up there and swimming is not advised everywhere. For a great experience, head to the top of the peninsula and Kooljaman retreat. Here you can find accommodation, food, camping spots and indigenous tours of the local area and wildlife.
There are several indigenous communities dotted throughout the peninsula also. If you're interested in visiting one, it's best to enquire beforehand at the Broome Tourist information centre or directly through the communities themselves.
Kununurra
Try saying Kununurra out loud 5 times fast. Yep, it's pretty much impossible. Kununurra boasts average winter temperatures in the mid 20's and some days will see the mercury reach into the 30's. This is the perfect winter destination for us softies in Perth. What makes Kununurra such a great spot is the fact it is surrounded by some of the best landscape in all of Australia.
Sitting in the east of the Kimberley, Kununurra makes a perfect base camp to explore the many rivers, gorges and sea inlets that make this part of the world truly one of a kind. You can take boats, planes and 4wd's to some places other parts of the world can only dream of.